There's Celtic art, birds, animals, and lots of flowers - and don't worry - all my art is still here and it's still available - here are all the places you can buy all kinds of my arty products...
Want to explore all my artworks? This is the best place to see everything (all the different pieces/artworks)!
Want to check for any new artworks? I'll add new artworks here! (same as the link just above)
Where to Buy Lotti Brown Artwork & Products
Many of the stockists below have a large selection of my designs, and in most cases they will print your order 'on demand' with speedy worldwide delivery.
If there's something specific you were looking for and you're feeling stuck or can't find it, please just get in touch and let me know how I can help. 
Concerned about customs duties? Then buy from my Redbubble store where they will refund any duties or customs taxes to you on proof of payment. I've taken them up on this once or  twice (with no problems at all!) - but on most occasions no customs duty has been required. Processing and delivery is usually very prompt, too, and I'm pretty sure that they stock the widest range of my designs and product types to choose from.
Redbubble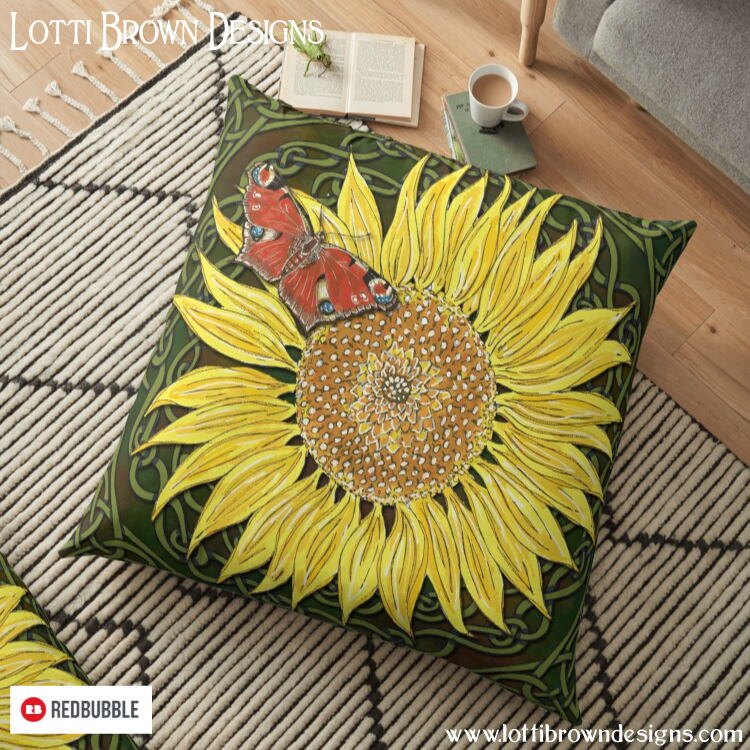 Giant Sunflower & Butterfly cushion by Lotti Brown Designs at Redbubble
My top stockist!
Framed and unframed prints

Fashion including chiffon tops, tees, skirts and dresses.

Wide selection of homewares and accessories including duvets, throw pillows, bags, stationery, phone and tech-cases, and more...
Delivers worldwide, usually very quickly and often from a local production centre, and will refund customs charges if you are charged - click here for what to do if you get a custom charge.